As we near the top and the truly elite, the two best Smash 64 countries in the world make their first appearances.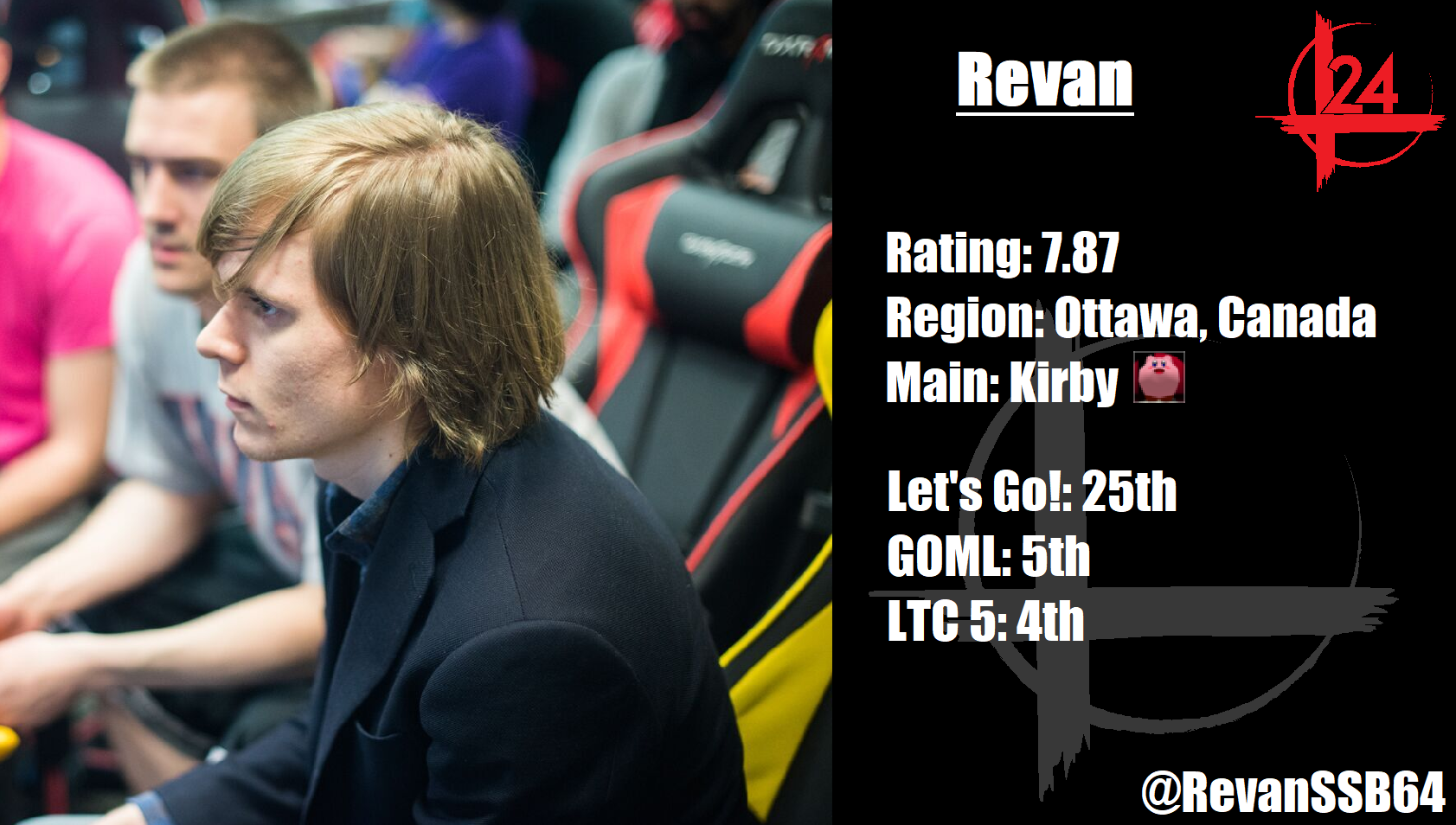 Thomas "Revan" Dykes's 2017 was spent mainly abroad, as he went to four major tournaments in three different countries. At BEAST 7 in February, Revan's Kirby came into the year strong with game 5 wins over Josh Brody and Isai to make it to Grand Finals before being double eliminated by Isai in the rematch — though Revan reaffirmed the Canadian stereotypes by taking Isai's tournament-winning, jaw-dropping combos with a smile and gracious handshake. Let's Go! proved to be a relatively poor showing, with losses to Janco and Shalaka en route to 25th place, but Revan rebounded by earning 5th at GOML (beating Kort and Fireblaster) and 4th at Low Tier City 5 (with wins over Zero and CTG) to close out his year in competitive Smash 64. In addition to these impressive showings, Revan also streams on an almost daily basis, playing against other top players and theorycrafting matchups for a few hours each session. With his consistent, deliberate practice, both in-tournament and on-stream, and his commitment to traveling for as much top-tier Smash as he can handle, Revan's patient and punishing Kirby is poised to continue rising up the competitive ladder.
-Brendan Murray
Notable wins – Kort, Fireblaster, Isai*
Photo courtesy of © Preston Kwan | @The64Story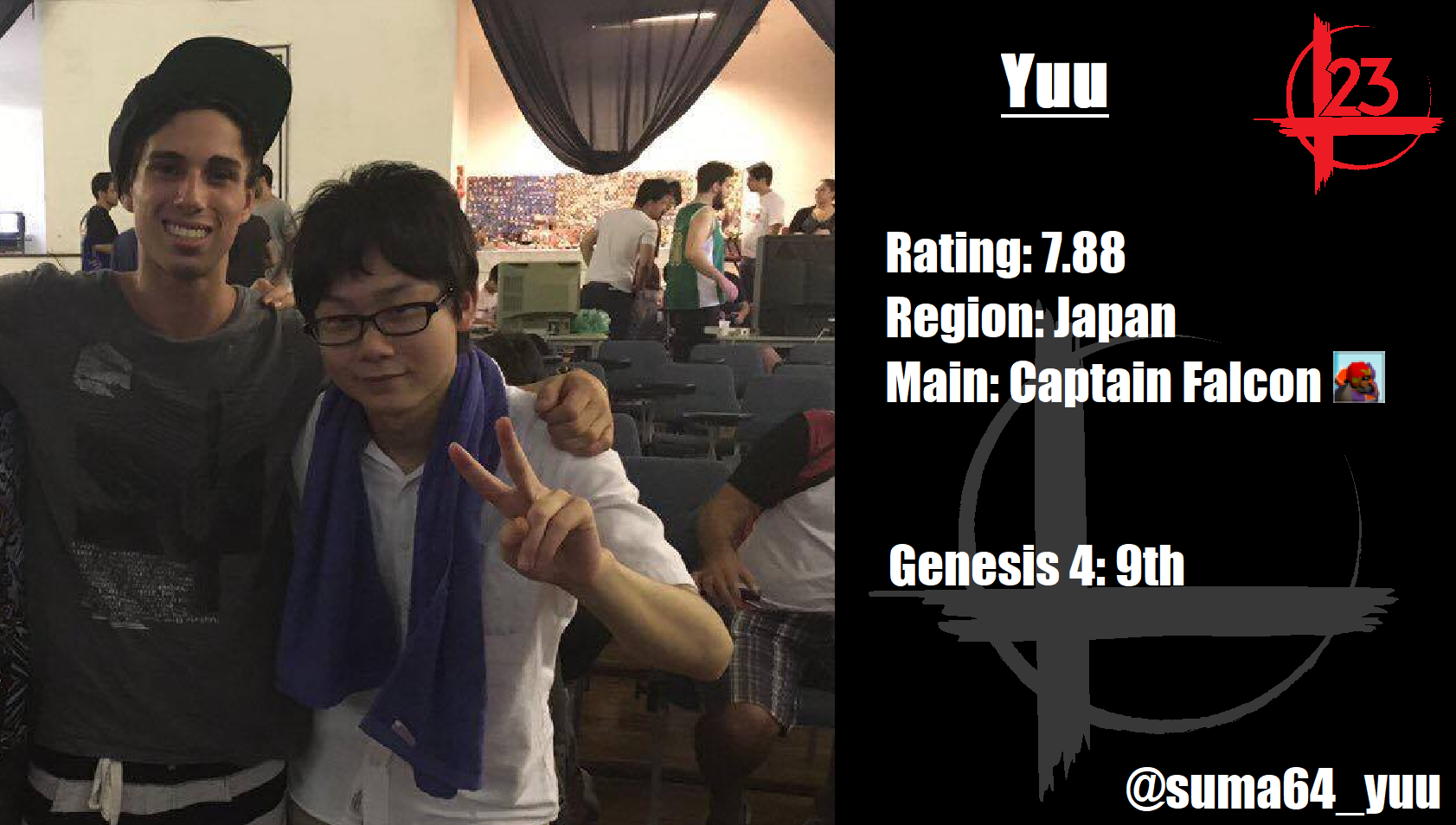 Yuu, formerly known as Yu-Kun, is currently among the top Captain Falcon mains in Japan and has consistently placed well in Japanese tournaments. In 2017 he made the trip from Japan to San Jose, California for Genesis 4. After losing to KeroKeroppi in winners he would have to face Isai in the losers bracket. Yuu took the set in a convincing 3-1 over Isai's Jigglypuff and Mario, but would fall just short of Top 8 after running into SuPeRbOoMfAn. Back on Japanese soil, Yuu would again find himself finishing 9th at Kansai 2017, losing to Taimai who had recently switched to Falcon after Genesis. Yuu would not attend another North American event in 2017 but traveled even further to Brazil in the fall for UFSmash III, the largest annual tournament of the country and possibly the entire continent. Yuu stumbled early in placement pools, losing to Peruvian Kirby main Jose, but recovered in division play to reach Top 8.  After a 3-1 win over one of Brazil's top players, Kort, Yuu failed to find victory against Peru's Tavomono, a player he had lost to earlier in Division 1. His UFSmash run would end there at a very respectable 5th place which, along with his Genesis 9th place finish, earns him his spot on the 2017 rankings.
-Rafael Oceguera
Notable wins – Isai, Shears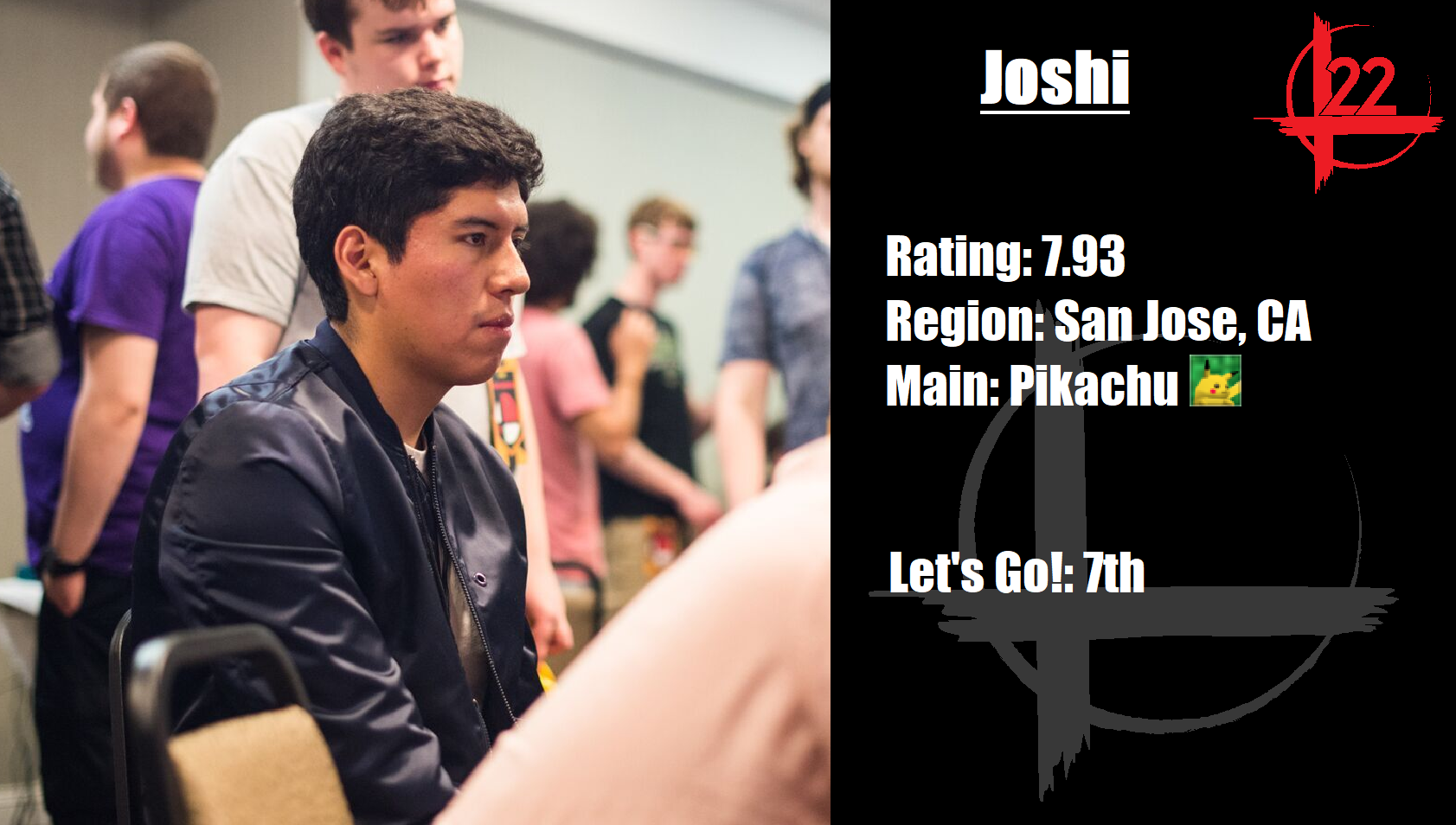 One of the biggest surprises this year came from the Peruvian native and recent NorCal resident, Joshi. Much like the other top players in his region, Joshi did not attend many tournaments, but had extremely impressive results. Although he has competent skill with the entire cast, the primarily Pikachu main was able to carve through his competition and really make for some fantastic upsets as he placed 7th at Let's Go! and 2nd at Hitstun 5 to finish out 2017. Turning some heads, Joshi confirmed late into the entry period to attend Let's Go!, where he was sent to losers by Dext3r. Through losers however, Joshi was able to complete a 3-0 win over Lowww and then take an impressive 3-1 win over Josh Brody, only to then fall to TR3GTheZ 3-1. Later into the year, Joshi then announced he would be attending Hitstun 5, in Texas. Even though this tournament was past the deadline for the 2017 rankings, Joshi finished an extremely impressive losers bracket run by defeating Cobr 3-1, Josh Brody yet again 3-1, and then had his most impressive upset of the year defeating Zero 3-1 before falling to SuPeRbOoMfAn 3-1.
-Alex Jungsten
Notable wins – Lowww, Josh Brody
Photo courtesy of © Preston Kwan | @The64Story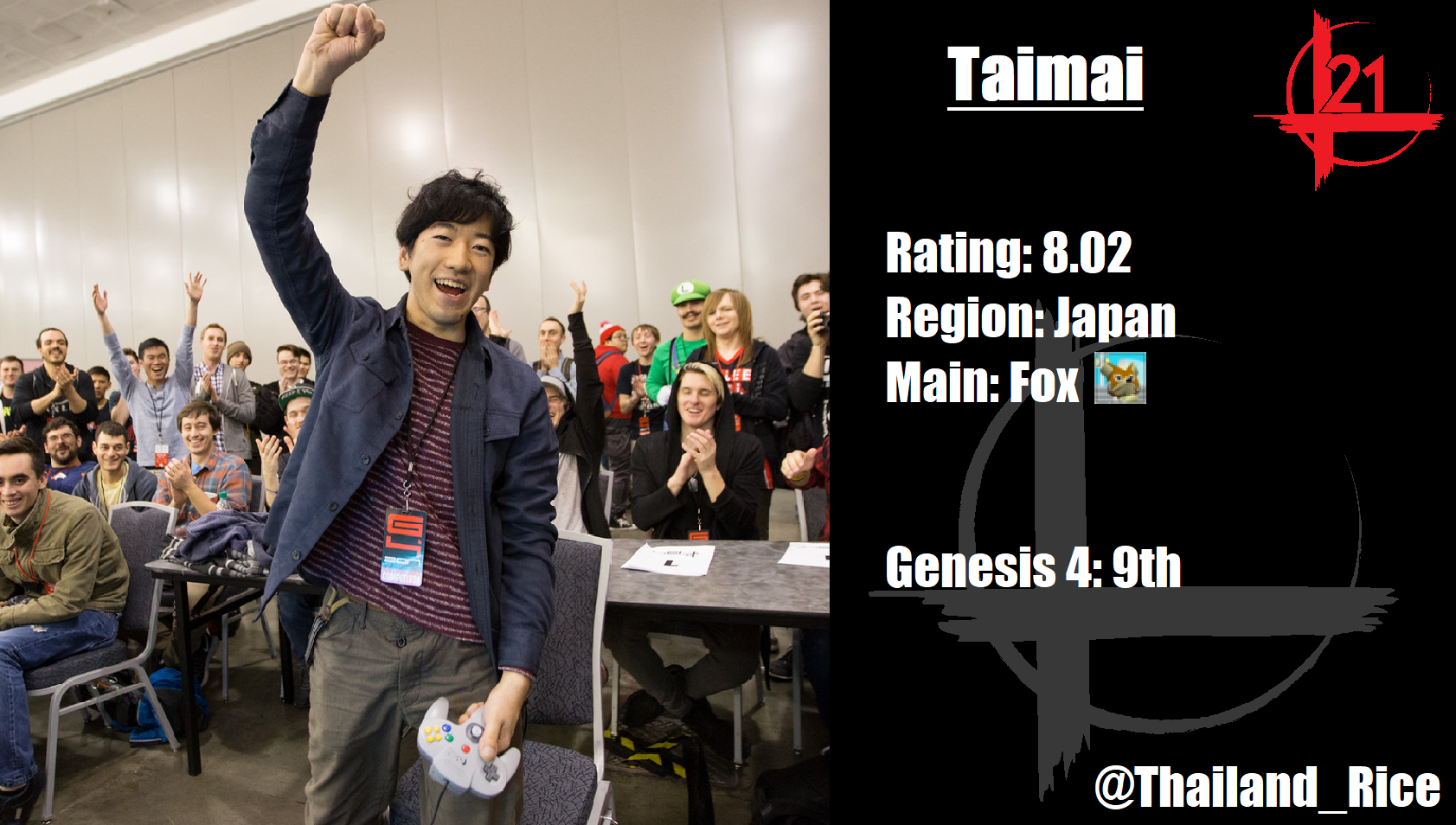 Taimai's prominence showed during the Japan Smash Cup, which took place on Christmas Eve 2016 before Genesis 4. His 17th place finish at the tourney, and near victory over Wario, drew interest from international crowds, and he joined fellow Japanese players Yuu and k y s k in attending G4. His wins over JaimeHR and Isai were impressive, but he looked equally impressive against Dext3r in one of the best sets of the year. His games against KeroKeroppi merely added to the "Fox is Fox" claims the latter likes to say. Following his G4 performance, Taimai claimed a Top 8 spot at Kansai, his best placing to date.
-Rob Stone
Notable wins – JaimeHR, Isai
Photo courtesy of © Thomas Tischio | @tischphotos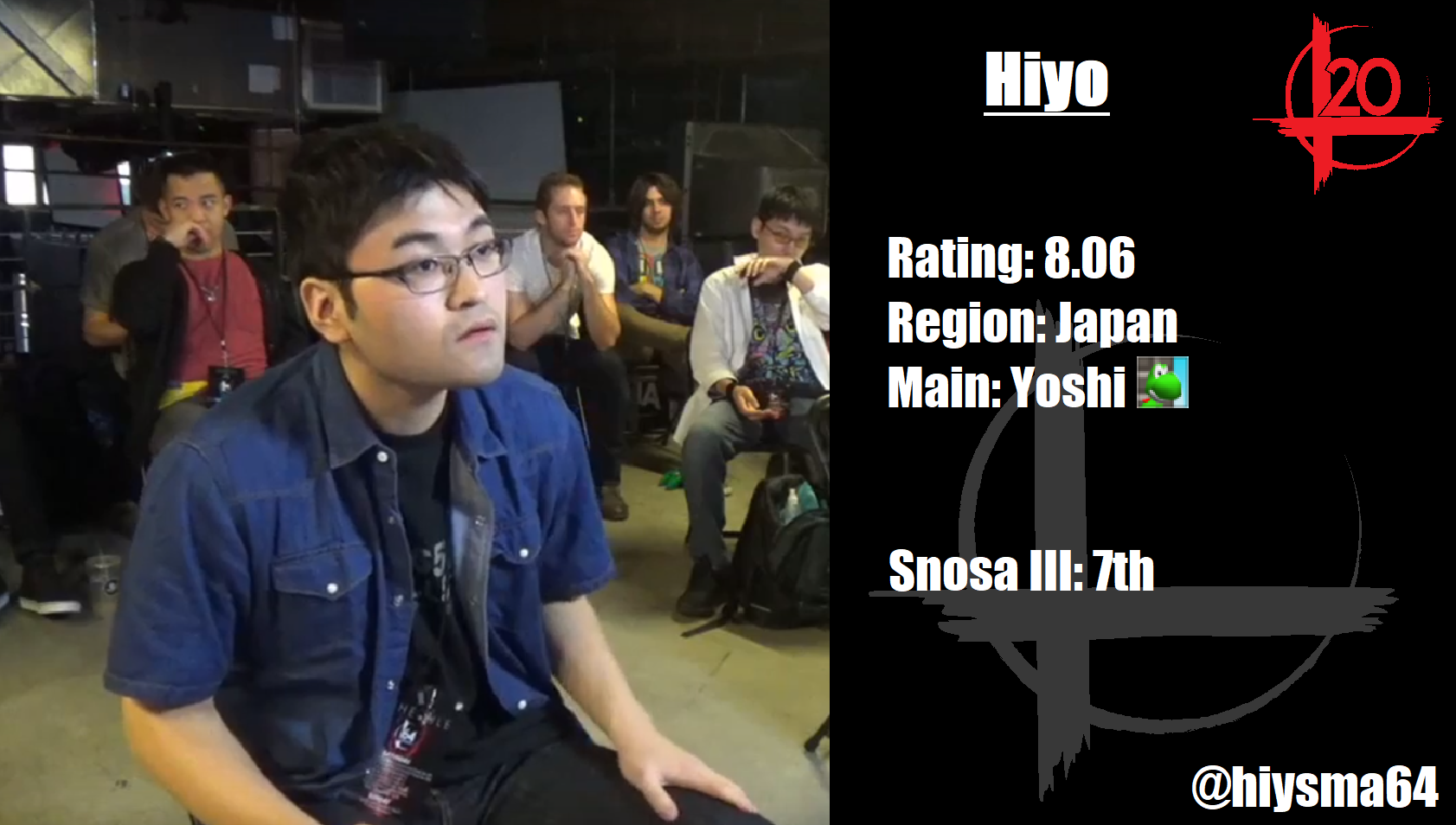 Hiyo, a Yoshi from Japan, added his name to the list of Japanese smashers to make the trip across the Pacific to compete against North American talent. Following his 9th place finish at Kansai 2017, where he tied with the well-known Kurabba, another top Yoshi in Japan, he would enter Snosa III in Los Angeles. After sweeping his Division 1 pool over Kimimaru, Wookiee and Near, Hiyo moved into Top 16. In bracket, Hiyo gathered wins over DTan and Hero Pie, climbing to Top 8, though he fell short against Isai's Fox and finished in 7th place. Hiyo was unable to return to North America to make another tournament appearance, but outside of an uncharacteristic 33rd at Kanto 2017, he placed consistently at all of the Japanese tournaments he attended in 2017. If Hiyo is able to return to North America in 2018 look for him to be poised to make another deep bracket run as he did at Snosa III, but in the meantime keep an eye on his Japanese results as he tries to push into the top Yoshi spot.
-Rafael Oceguera
Notable wins – DTan, Hero Pie, Kimimaru
Photo courtesy of SSB64 League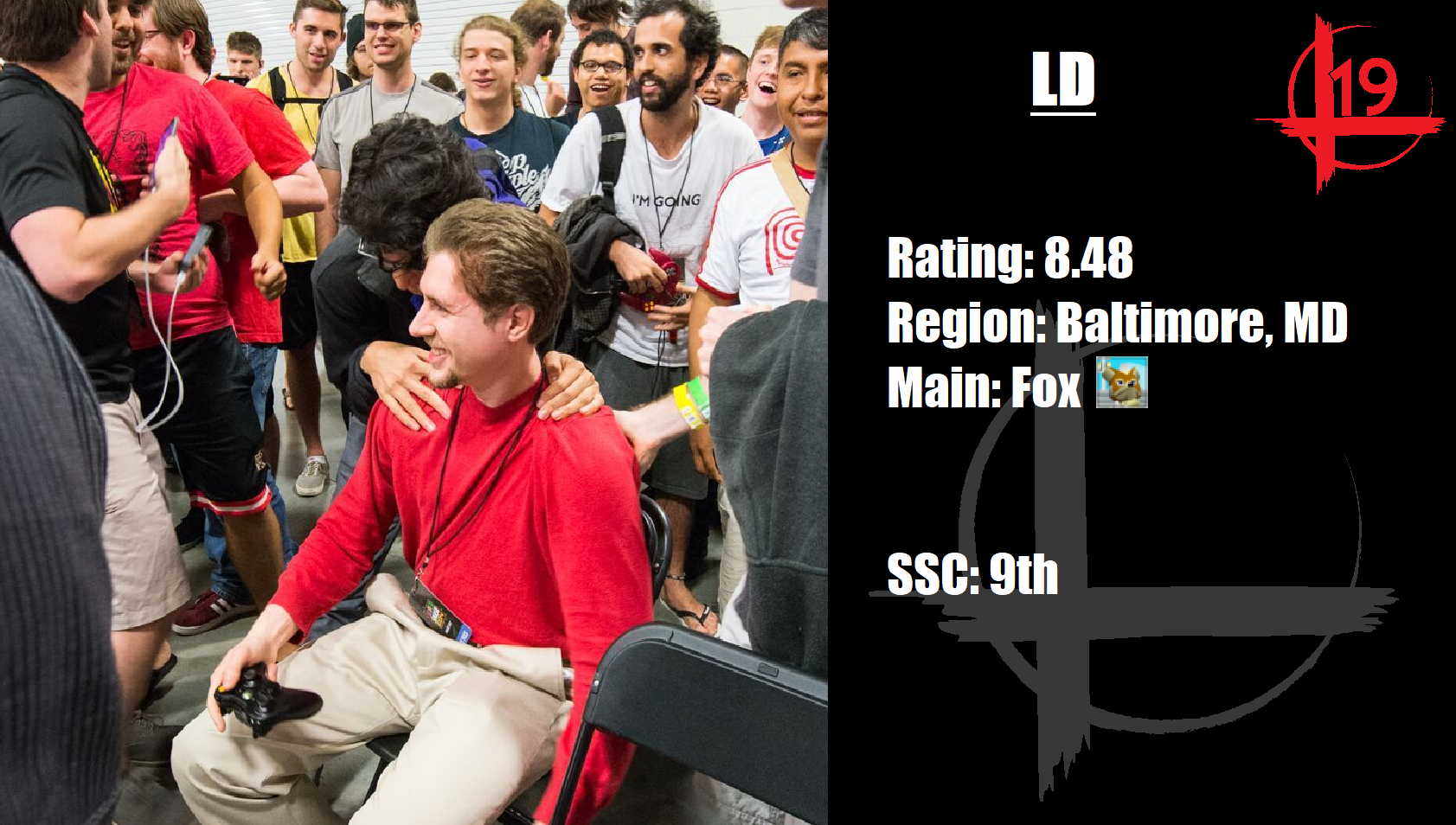 LD only needed one major appearance this year to make waves, powering his way to one of the most spectacular underdog victories in the history of competitive Smash 64. Despite a few regional appearances, it was fair to speculate how a year-long break between majors would affect the solo Fox main. LD responded at Super Smash Con 2017 with a convincing 2-0 victory over Alvin, who was considered by many to be the strongest player in the world. Despite only losing to two players during the entire year, LD's losses held him back from being ranked higher. He lost to Wangera following the Alvin victory, and fell short of a miraculous 0-2 comeback against fellow Baltimore smasher Josh Brody in a match to make Top 8. Outside of SSC, LD composed an impressive list of victims, taking down the likes of Lowww, lord narwhal, KD3, Star King, Darkhorse, and many more; some in multiple sets. His combo game was as strong as ever, where DI acted as a choose-your-own adventure book, with every ending leading to "jab up-smash". LD's impeccable ability to punish, combined with an incredibly daunting neutral made him arguably the most dominant player at his level in 2017.
-Josh Brody
Notable wins – Shalaka, JaimeHR, Alvin
Photo courtesy of © Preston Kwan | @The64Story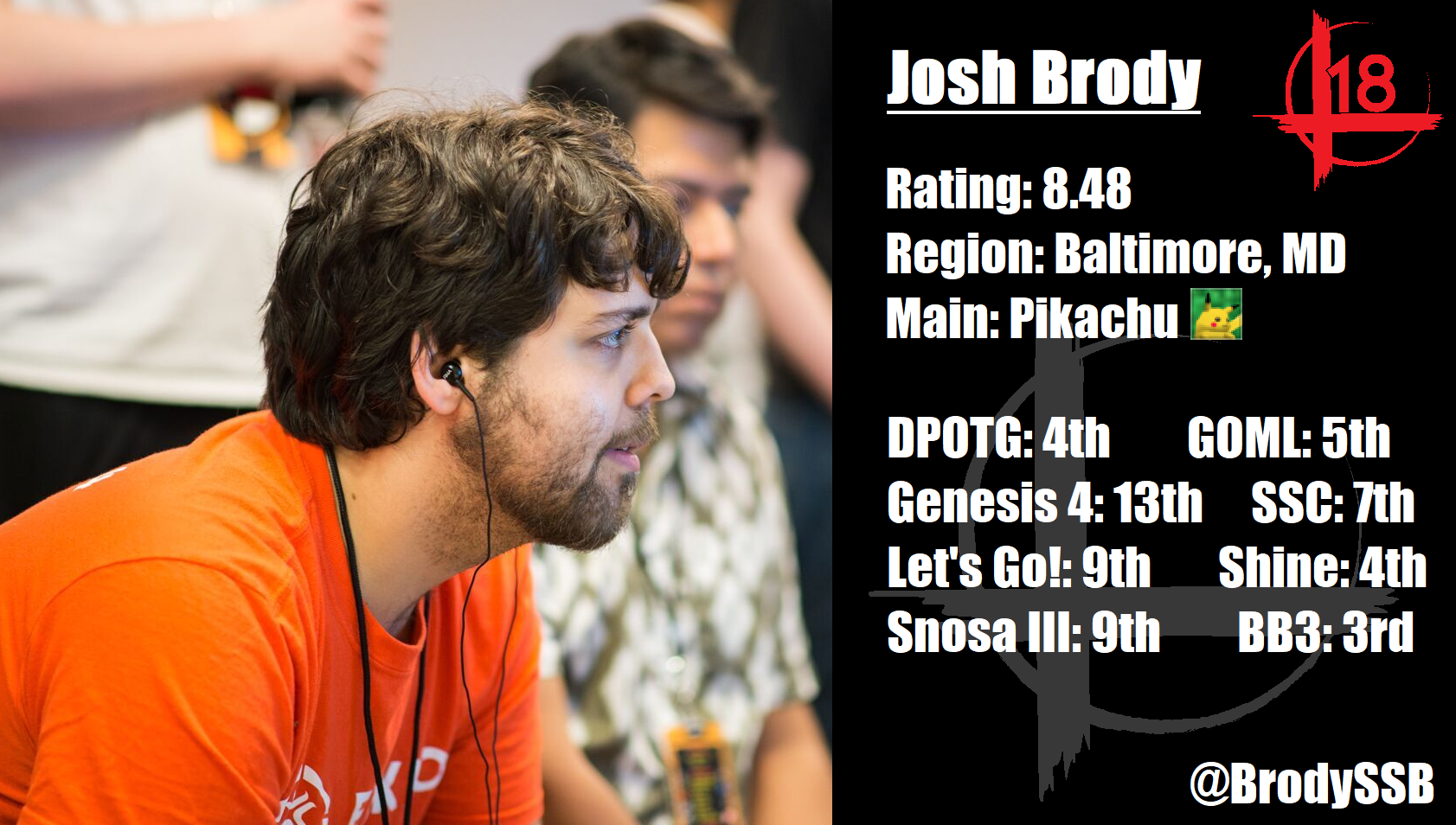 One of three Baltimore smashing brothers, the smasher formerly known as BarkSanchez, made it to all but one qualifying tournament in 2017. The wily Josh Brody was turning in his airline miles and jet-setting across the country to curate an impressive list of results. Twelve Top 10 finishes were highlighted by wins against both Wizzrobe and Alvin. One of the humblest players in all of Smash, 64 or otherwise, Josh Brody will have an explanation for why he should not have won, but all the results show are incredible wins against a few of the goliaths of 64. 2017 showed that Josh is worthy of being in the conversation with the best of the best. His showing at Super Smash Con 2017 was by far his most impressive. Defeats of Nintendude, Shalaka, Firo, Isai, and LD led him to a seventh place finish in one of the most stacked tournaments in 64 history. As he looks to 2018, his biggest challenge seems to be Dext3r, whom he was 0-5 against at ballot tournaments. He also looks to improve against the international talent that tends to show up strong, losing to Joshi, wario, and Gyaki in 2017. The multitalented friend to all in Smash 64 continually writes for The Smash Writers while honing his skills and we cannot wait to see what he is going to do next.
-Jason Mani
Notable wins – Wizzrobe, LD, KeroKeroppi
Photo courtesy of © Preston Kwan | @The64Story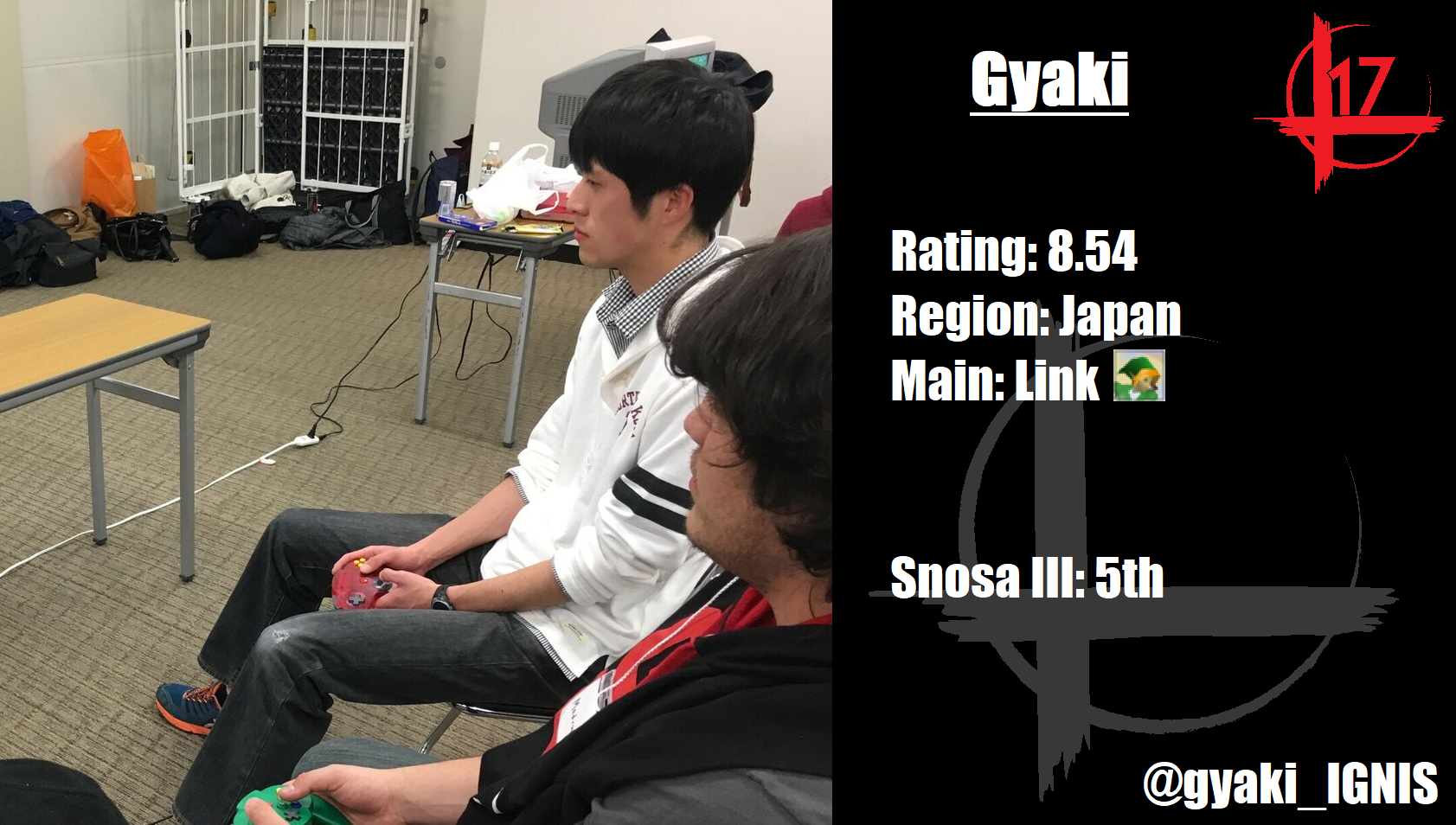 Gyaki is the mysterious Link main from the land of the rising sun. He burst onto the scene with his impressive movement as the Hero of Time and had the number of many a confident smasher at Snosa III. Gyaki invaded Southern California this past summer with fellow countrymen Fukurou and Hiyo. The three made up 30 percent of Snosa's Top 10 in what was yet another impressive showing from an increasingly well-travelled contingent of Japanese players. Gyaki toppled the likes of Hero Pie, Weedwack, Kimimaru, and Josh Brody on his path to a fifth place finish at what was a talented field gathered in the California heat. After a warm reception and the kind hospitality of West Coast smashers, we hope to see Gyaki return to the United States in 2018 to showcase what his stylish Link can do to unsuspecting victims.
-Jason Mani
Notable wins – Hero Pie, Josh Brody, Isai
Photo courtesy of © Preston Kwan | @The64Story
Marco "TR3GTheZ" Jardak entered Genesis 4 after a set with Wangera at Smash Con that will be remembered for ages, but he ultimately fell just outside of Top 8. TR3GTheZ has long been a fan favorite, often showcasing multiple characters throughout a tournament and turning the game into a form of freestyle expression. He has some formidable wins, such as victories over Zero, Fray, Czar, Joshi, NaCl, and DTan, but he did not claim any heads of players rungs above him on the ladder of skill. Unfortunately, his losses this year seem to be the worst form of déjà vu; he continued to lose to players who have seemingly had his number and have put beatdowns on him for some time, including tacos, Mariguas, Dext3r, and KeroKeroppi. He often seems to be on the cusp of victory and has flashes of brilliance, but something creeps in and snatches defeat from the jaws of victory. Despite these shortcomings, TR3GTheZ still had a relatively successful year, placing Top 12 at all tournaments he attended. He is taking a step back from attending multiple tournaments, but that's alright – absence makes the heart grow fonder, and the next tournament we see him at will undoubtedly be chock-full of Twitch Clips to contribute to another "120 Seconds of The Z."
-Rob Stone
Notable wins – Joshi, Zero
Photo courtesy of © Preston Kwan | @The64Story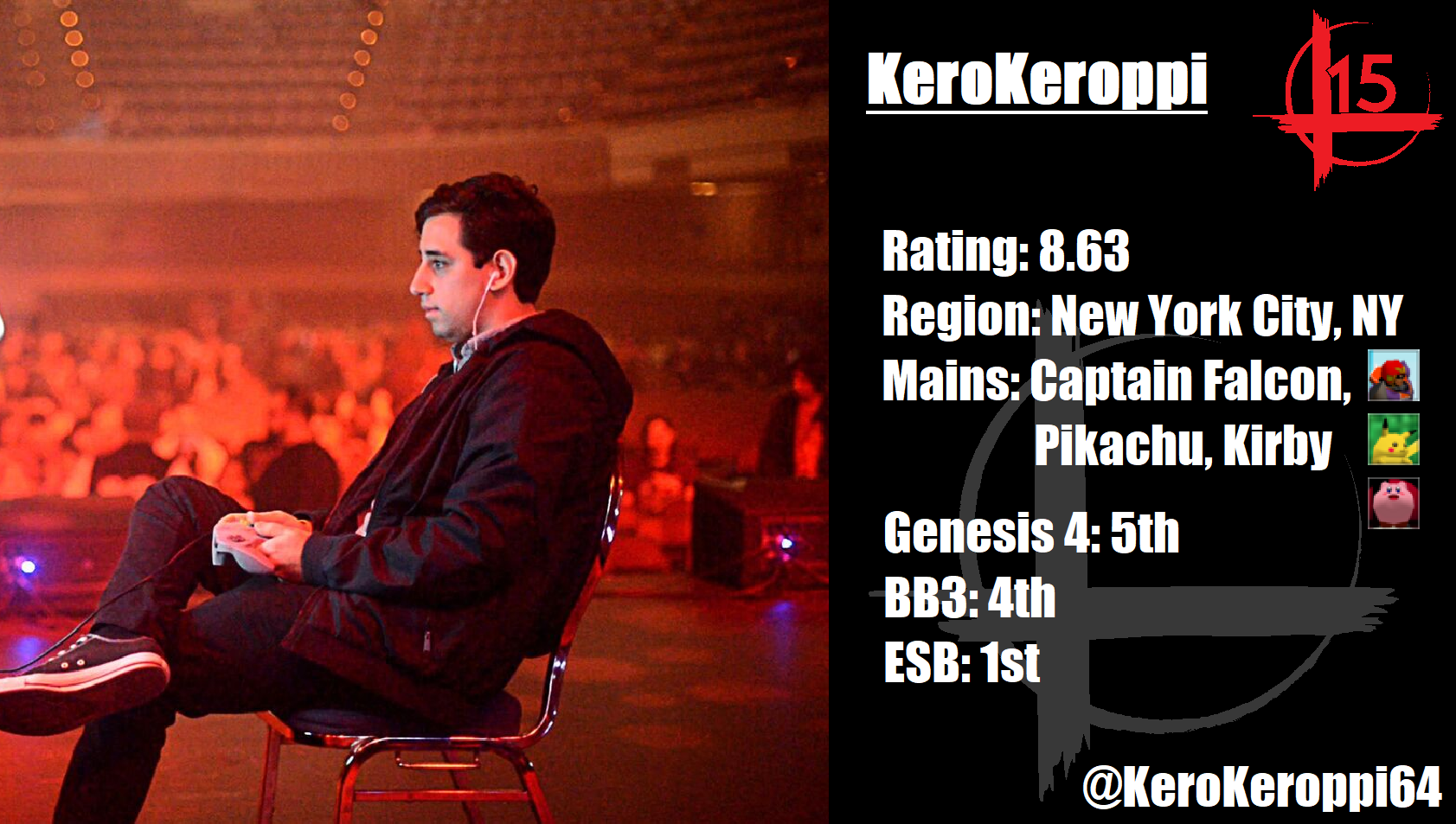 After a brief hiatus from the game post Genesis 4, 64's prodigal son, KeroKeroppi, returned to action in the latter half of 2017. Though he played with a renewed competitive spirit, it seemed that Kero initially had some rust to shake off. He was defeated in two sets by KD3 at a Big Apple Smash monthly, and later beaten by Josh Brody at Boss Battle 3. However, by the end of the year Kero was able to find his footing and he avenged both losses at The Empire Smashes Back at his home court in New York City. 2018 holds massive potential for Kero. He is training online, and for the first time in his Smash career, he lives in a region with many other players. As noted by Kero himself, the field of talent has significantly expanded in 64. He now finds himself not only battling for a spot amongst the very best but also defending his position from rising stars who were previously far below his level. Kero remains one of 64's most popular players and we can be certain he will be looking for a big start to the year at Genesis 5.
-Max B.
Notable wins – TR3GTheZ, Taimai, Josh Brody
Photo courtesy of © Preston Kwan | @The64Story
* denotes a win at a national or regional event that was NOT included in the 2017 ballot